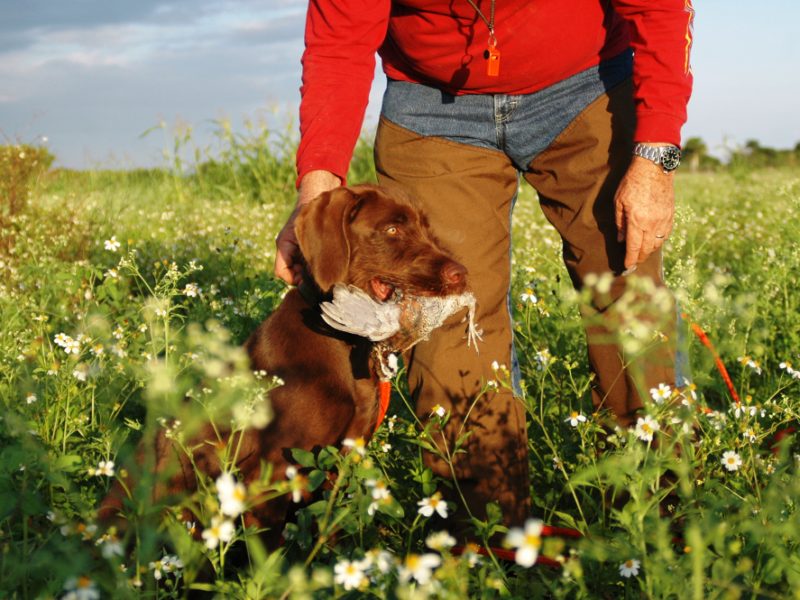 Hunting dogs have been part of my entire life. I can't remember a time when I wasn't around them, and I can't imagine a life without them.
I got started in the versatile breeds years ago with German wirehaired pointers. I owned a lot of very good ones, and produced some solid dogs. Some of them were outstanding examples of working GWPs. At the time, I was certain I was where I was going to be for the rest of my years being involved with dogs.
About eight years ago, I was making arrangements with another GWP breeder to obtain frozen semen from a stud dog whose characteristics I wanted to introduce into my pups. He told me he was moving into Pudelpointers, and made a strong argument for me at least taking a look at the breed, for all of the reasons we Pudelpointer owners love about them – their sweet, biddable and sometimes clownish personalities, their even temperament, their ability to "turn off the switch" and go from a hardworking field dog to a model citizen in the home.
It took some talking, but my fellow breeder finally convinced me to at least look at some good examples of the breed, spend some time talking with Pudelpointer owners, and most important, spend some time in the field over these dogs during training and hunting. So I did, not expecting to be persuaded to move away from my German wirehaired pointers.
I was wrong. I had invested a lot of years in GWPs, but I knew, after seeing these wonderful dogs in a working setting, that my future as a breeder was going to be with Pudelpointers. I couldn't believe how much more of a pleasure training these wonderful dogs was compared to the sometimes "hard" dogs GWPs can be. There's nothing wrong with GWPs, but the Pudelpointer was a much better fit with the way I like to train – in a word, "gentler" – and the way I wanted a dog to hunt.
I found the right first pup, and eight years ago I drove 18 hours each way to pick up my first Pudelpointer from an experienced breeder in Ohio. That pup was Cacha, and we took her all the way through to a NAVHDA Versatile Champion, something I'd never been able to do with my GWPs.
That started my ongoing journey with this wonderful breed. I've never looked back, and I've never regretted it.
My Breeding Philosophy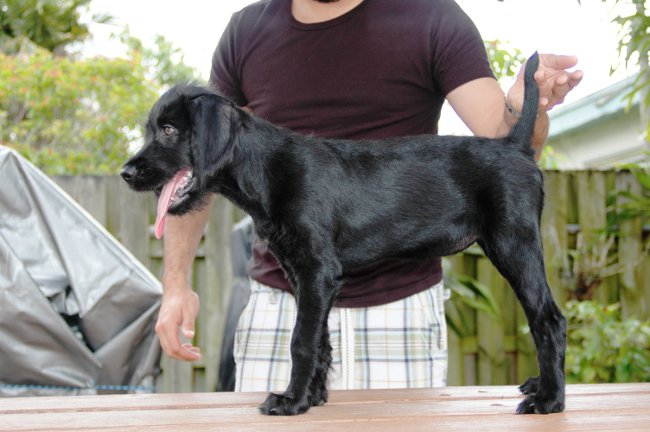 I do have a breeding philosophy, and at the heart of it is this: There are no shortcuts.
I don't engage in close line breeding or inbreeding in an attempt to immediately bring a particular feature or trait to prominence in a dog. There are simply too many unknown factors at play in that practice that can allow recessive genes to suddenly express themselves, and not necessarily in a desirable way.
I breed not only the dogs. I "breed the family." I want to see excellence back to beyond the grandparents' pedigrees. It's not enough that a prospective sire or dam performs well in testing – that can be the product of nothing more than a talented trainer. Show me a lineage with dogs that consistently perform well several generations back, and you have my attention.
I want to see well-rounded dogs that exemplify excellence in the breed's standards in every respect, and again, for several generations back.
My first concern is breeding for good health, physical conformation and temperament. I can't imagine anything more disheartening than to finally acquire one of these wonderful dogs, only to have inherited disorders surface later. Good coat, eyes, teeth and bite. No problems like hip dysplasia. The wonderful temperament for which this breed is rightly renowned. A general conformation that allows it to fill its intended roles in the field. These are the things I breed for first.
I breed for faithful adherence to the breed standard, which was established to describe an excellent versatile dog for the foot hunter, capable of performing on upland game, waterfowl and in tracking on both fur and feather, with a pleasant temperament that makes training and living with these dogs a pleasure.
Unlike what's happened with some other breeds, serious Pudelpointer breeders are not looking to "improve" the breed beyond the standards described in the 19th century. We only need to breed to excellence in meeting those standards.